Bathtub Reglazing: Make Your Bathtub Look and Feel Brand New
Tired of looking at your dated, stained, chipped and sometimes grimy bathtub?— Get a bathtub repair now and see how your bathtub can look like and feel like new. Of course, you can always buy a new bathtub. Then again, why spend thousands of dollars when you can spend less and still get that same effect through bathtub reglazing, and yes, your age-old bathtub CAN still look like new, because with modern bathtub remodelling techniques, absolutely nothing is impossible.
Old bathtubs are not only unpleasant to look at, but they can also become increasingly difficult to clean. With bathtub reglazing, your bathtub now has the chance to look nicer and be easier to maintain.
Bathtub Reglazing Process
The process of bathtub reglazing begins by covering fixtures as well as areas of the tub or in the room, which will not be included in the reglazing process. A special cleaner is used in order to remove soap scum, body oils, mineral deposits and other dirt that may have accumulated on your bathtub over the years. After which, the entire tub surface area is cleaned or "etched." Then, a conditioner is applied. After the conditioner, an epoxy adhesive is applied to ensure a stable bond between your tub's old surface and its new finish. You may choose to add a non-slip bottom rather than using a bathmat that could trap standing water and result in damage to the surface of the bathtub. Finally, a trained professional applies a top-of-the-line glaze that will give your bathtub a high gloss finish.
Bathtub refinishing is definitely a more practical option as supposed to bathtub replacement. Apart from the cost of a brand new bathtub, you'd still have to pay for the removal of your old bathtub, plumbing, tile repair as well as the installation of your new bathtub. With this, tub replacement can cost around $600 to $3000.
Bathtub reglazing, on the other hand, will cost considerably less, depending on the type of bathtub and the amount of repair required. The reglazing process will work on different surfaces including porcelain, ceramic, and fiberglass. In just 24 hours after starting bathtub reglazing, your bathtub will once again look and feel brand new!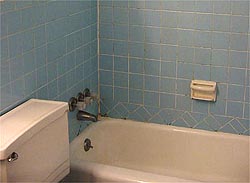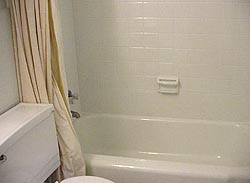 Tile Refinishing: Bring Your Outdated Tiles Back to Life…
Choosing the perfect tile, its design, color, shape or finish, can be very taxing. It is bound to consume much of your time, only to find them becoming discolored, chipped and outdated after only several months from installation. Of course, you can't change you tiles every year. Even if you have that much money, that would be extremely impractical and would be too much of a hassle. As such, tile refinishing is now becoming more popular among homeowners. It's a cheaper and more convenient alternative to tile replacement.
Even the best, most expensive and most well-kept tiles are bound to become more porous, darken, get stained and loose its luster after sometime. As a result, they become more difficult to clean, and become more unsightly. Tile refinishing offers homeowners an opportunity to have tiles that can be easily maintained, giving them a more updated look at a significantly cheaper cost.
Tile Refinishing Process
The tile refinishing process involves the use of special equipment and materials, which includes bonding agents, primers, clear finishes and top coats. Following the tile refinishing process, your tiles will become immaculately clean. A glaze can be placed on top to make the tiles look glossy and will make them more durable. The entire tile refinishing process, including drying time, takes about 24 hours to complete. So, after only a day, you'd be able to bring your outdated tiles back to life!
Brandywine Resurfacing offers multiple options for homeowners. Chipped tiles can be repaired and you will be able to match the color of your tiles with the color and design of the room—all at a very affordable cost. Also, the entire process is done by trained professionals in order to give you nothing less than quality service.
Tile reglazing is a great way to complement any of your new bathroom furniture or fixtures. Plus, it will give your bathroom or kitchen a fresh look. So, why spend thousands of dollars in replacing your tiles, when you can spend less with tile refinishing, and still get that same brand new look.